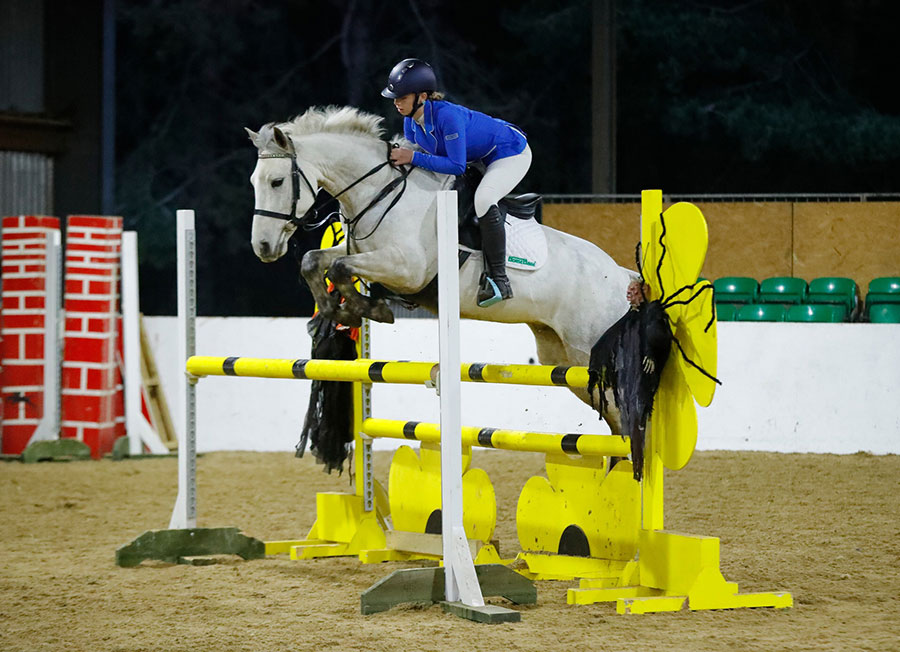 "We've had a bit of a mixed month this November, with lots of positives alongside a few minor setbacks.
"We began with a five hour round trip to Forest Edge Equestrian on the 3rd November for some British Show Jumping qualifiers, coming away with a fourth place in the Foxhunter and just a silly rider-error pole down in Newcomers!! Super pleased with how Mac felt and I'm especially grateful for him saving me a few times when I set us on dodgy strides.
"Our next planned outing was to Your Horse Live on the 9th, with VIP tickets, thanks to a friend! The day was absolutely amazing! We got to meet Geoff Billington and have a nice ten minute chat with him, as well as meeting a few others including Jonty Evans, Jay Halim, and Charlotte Dujardin. Of course we also made some special trips to visit the HorseHage & Mollichaff stand a few times too, throughout the day to meet up with the team and get photos, and it was lovely to see them all again. The demos and shopping were so good once again this year, I'd definitely recommend going to Your Horse Live to anyone!
"The following day we took Mac over to Onley Grounds Equestrian Centre for some more British Show Jumping, having a fairly respectable day. Started off with what felt like THE most stressful warm-up as it was so busy, to then to go and come double clear and place second in the Newcomers with one of our nicest most relaxed rounds to date, narrowly missing out on first place by less than a second! Then during our Foxhunter round, things started going a bit downhill and something just didn't feel right with Mac so we decided to call it quits and go home to be on the safe side.
"The following week we had his back checked over by the physio and McTimoney practitioner to discover quite a lot was out of place and tense, thus requiring a few days off work followed by a strict work routine. Luckily everything went to plan and he's now doing much better!
"To check things we're running smoothly with Mac's 'recovery' as such, we decided to take him out for some unaffiliated show jumping with our riding club on the 24th at Glebe Farm Equestrian Centre. I thought it was best we dropped to some lower heights with what had just happened so entered him in the 85cm and 95cm to go double clear in both for fourth and first place! Mac honestly felt better than ever, chucking in a few turns here and there and he really showed how much better he was feeling! Haha! Super pony strikes again!!
"We've got a fair amount of things planned for December, especially towards the end, so that'll definitely be a blog to watch out for!"
That's all for now, Emma & Mac x