"Well, December 2019 was a pretty exciting month for us!
"We started it off with an early morning journey over to Keysoe EC on the 1st December for some affiliated jumping, only to find out they were mega-busy and four hours behind schedule, so we jumped the Newcomer and Foxhunter classes (which were built unexpectedly HUGE) to have some educational faults in each round and just come away with a few rails down.
"On the 9th December, I had the opportunity to move Mac to the yard I work at, so I took it! For anyone who doesn't know, I'm currently a few months into a Level 2 Equine Groom & Horse Care Apprenticeship at Red Piece Equestrian and I'm loving it! It's a very hands-on job with the horses and I've learnt an unbelievable amount since starting, although the hours are very different to what I've previously been familiar to at school, so moving Mac here with me has made everything so much easier.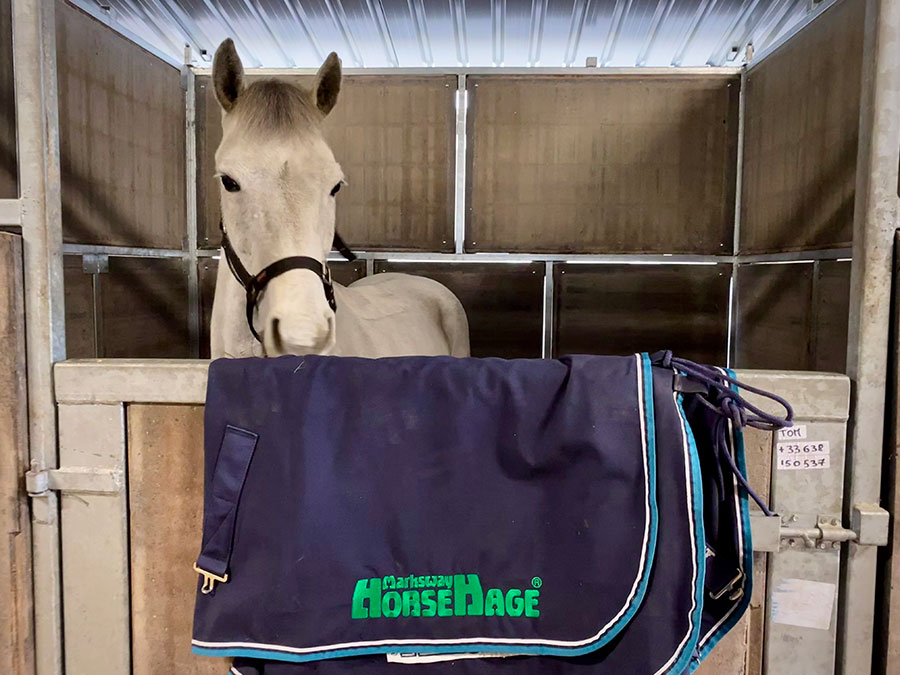 "After moving, I decided to have a fortnight-long break from competing to focus on lots of training at home, making use of all the facilities. It was apparent this worked well through the results at our next outing to Addington Manor BSJA on the 22nd December. We managed to go double clear twice in the Newcomers for 6th place and in the Discovery Blue Chip qualifier for second place and a qualification!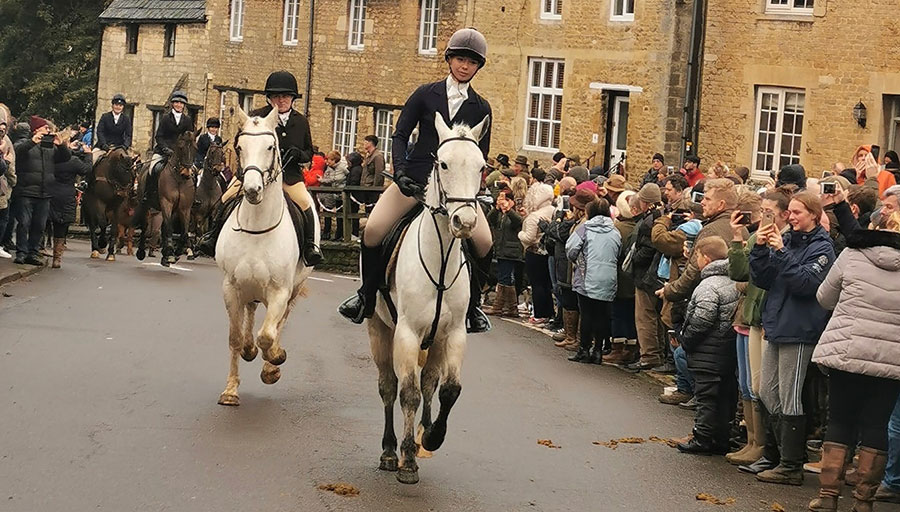 "For being so good, I treated Mac to a day out hunting with the Woodland Pytchley on Boxing Day and he made it clear that he was having a whale of a time! Not only was he impeccably behaved at the meet, surrounded by hundreds of people and horses, but out on the field too! He was an absolute legend, flying every single ditch and jump including some rather big and scary hedges – Eeeek!!! It was an amazing day out but I still can't understand how I arrived with a sparkling grey pony and left with a very sweaty poo/mud-coloured skewbald pony!
"To round the year and month off, we headed over to Keysoe EC yet again, but this time for a three-day, stay-away show from the 28th to the 30th December. Not only was this the last competition of the year but the last of an era too, as it was my last affiliated BS event I'll ever do with Mac due to now being officially 'out of ponies'.
"On the first day we only jumped the one class (Newcomers) to go double clear, apart from me forgetting about the final fence and having to circle back round to it, but Mac felt amazing round the whole course so I was really pleased. Then on the second day we jumped the Newcomers Blue Chip qualifier and the 1.00m Open class to have the unluckiest rider error – a pole down in each of them – but once again Mac felt on top form. On the final day we flew round the Newcomers with a double clear in a speedy time for a highly respectable second place. To finish the weekend off, we entered the Foxhunter to only literally breathe on a rail coming out of a tricky combination to round up a very full course. Once again I can't believe how incredible Mac behaved and performed all weekend and I'm still amazed I've got such an awesome pony! Forever grateful!
"January was cold and rainy and seemed to last forever, and it's the month everyone hates… but not us! Although it got off to a bad start with most events being cancelled due to high wind speeds or torrential rain, we decided to turn this into a positive and spend lots of time at home training instead.
"So on the 5th of January, I went to a show jumping clinic run by Phil Brown, but not on Mac – on Cracker – a super, awesome coloured pony from work I've been riding occasionally. This was super educational and I learnt lots of general things about striding and distances but also how to get the best out of Cracker round a course. And, I kid you not, he's got a heck of a jump on him!!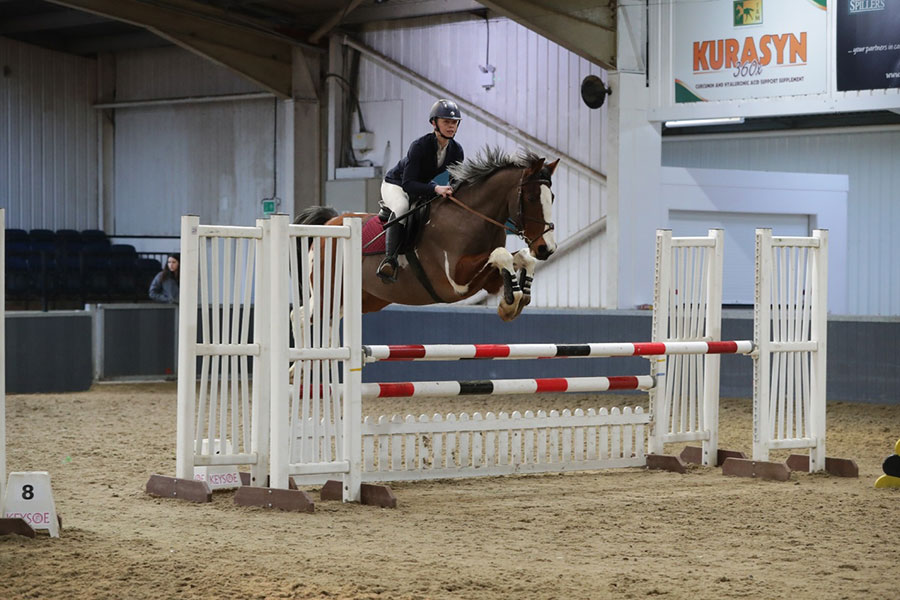 "After lots of flatwork at home, our next training session away was at Halefield Stud to hire the arena. I started off on Mac who produced some lovely work, really opening up onto horse strides, which is something he's always struggled with, so it felt really good to know things are progressing with him again. I then finished off the session on Cracker, who was so good. I focused a lot on the way I ride him and altering that slightly so that I don't restrict his way of going at all. After a while I really got used to him. Something just clicked and that's the turning point where I fully understood him and we began working together properly. All in all, a very beneficial day out.
"Finally, to finish the month off before a long break of schooling and hacking at home, we set off to the BRC HorseHage & Mollichaff Intermediate Winter Show Jumping qualifiers on the 18th January at Keysoe with Mac and Cracker. I started off with both ponies in the 90cm for Mac to fly round clear in his first round and then just tap the most unfortunate pole in the jump-off after a pretty speedy time. Then I went in with Cracker to just have a rider error pole in each round, although he felt incredible on course (apart from his acrobatic display beforehand – whoops!) Neither pony got any individual placings and our team was eliminated due to some falls but never mind, we still had fun!! Before heading home, I popped Mac round the 1m qualifier to go clear in the first round, and then clear in the jump-off… up until he launched the first part of a combination and dropped onto the second half of it, causing me to be jumped out of the saddle and lose both stirrups in the moment, which meant carrying on over the final five jumps completely stirrupless! But we got back safe and unharmed so that's all that matters!! Once again, no placing or qualification in that class, however Cracker went in it with his owner to qualify and WIN individually!! So a huge well done to Sophie for that!!!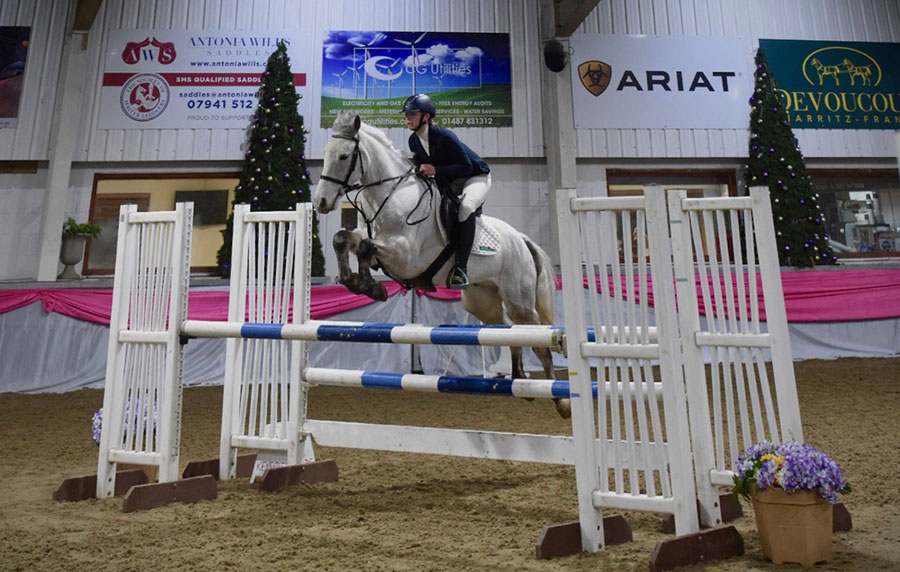 "As the weather took a turn for the worse, it was too dangerous to take the lorry out anywhere so we decided to stay at home for the rest of the month and do lots of schooling and hacking which was actually pretty fun and the ponies definitely enjoyed the downtime. Hopefully the weather will be better for February so we can get out more again, as I'm looking forward to an exciting charity event I really want to go to.
"February seemed to come and go as fast as I could blink! We didn't really get much done, but still had lots of fun! The amazing British weather decided it was a good idea to have a new storm EVERY weekend so that was great, hahaha!!!
"On the 2nd February, Izzy Thomas came to ride Mac, fell in love with him and connected really well with him. So she'll now be riding him every now and again so he can keep getting out to BSJA shows occasionally which will be good. I'm excited and really can't wait to see how they get on together.
"After Izzy's visit, we then spent the next three weeks focusing on polework, gridwork and fitness with tons of different exercises. During this time Mac also gradually transitioned from his current Mollichaff HoofKind Complete feed over to Mollichaff Condition Complete to help maintain him during the harsh winter it seemed we were in, and so far he's loving it and we're definitely seeing results!!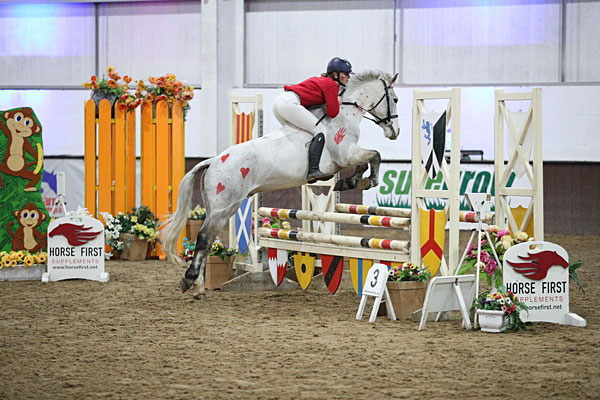 "Now for the exciting bit…. on the 21st February I found out I was balloted to do the Bury Farm EC Bareback Challenge at their charity show jumping on the next evening! Having only jumped him bareback twice (not very successfully) I was pretty scared but so pumped to do it!! So the day came and I spent a while painting Mac red with the help of a few friends and I'm not going to lie – he looked incredible!!! The atmosphere when we got there was something I can't even explain. I was walking the course and the grandstand seats were jam-packed full, but the sight of this no longer made me nervous. I just got this rush of adrenaline! The warm- up was slightly disastrous as Mac was a bit confused as to why I had no saddle on but once we got into the actual arena, it was like he knew everyone was watching him and he just felt amazing! Flew round the course quite quickly, made every single tight turn I asked for, stopped at the drink post really well (tomato juice mid-jumping round is not nice, yukkk!!!) and unluckily we just got a bad stride to the joker fence at the end to finish just out of the prize money in eighth place! I'm honestly so proud of Mac for coping so well with the atmosphere and it's definitely an event I'd recommend others to have a go at, as it really is just an experience like no other!!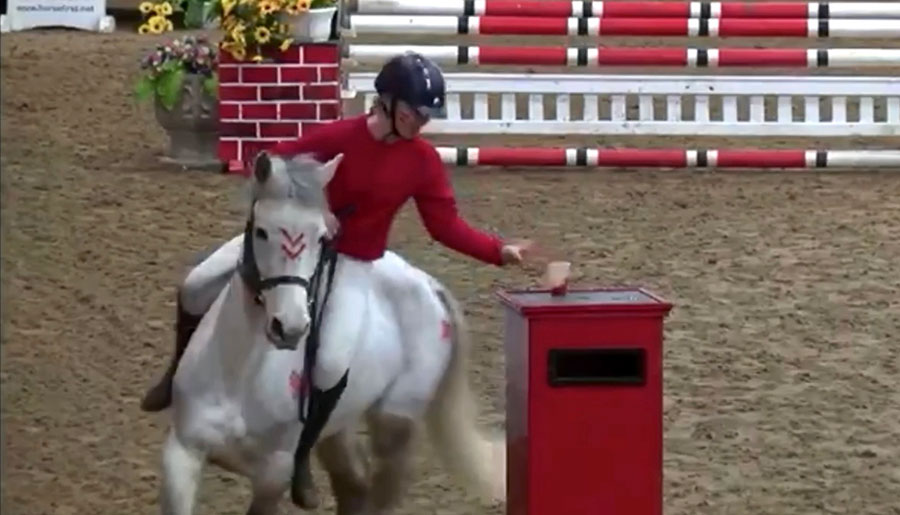 "After being such a legend, 'ickle pony', Mac, had a well-deserved week- long break to finish the month, ready to come back into action in March and hopefully get back on track with properly competing again. I can't wait!!!"
Emma and Mac x
You can follow Emma on Instagram – @jumping.greyss