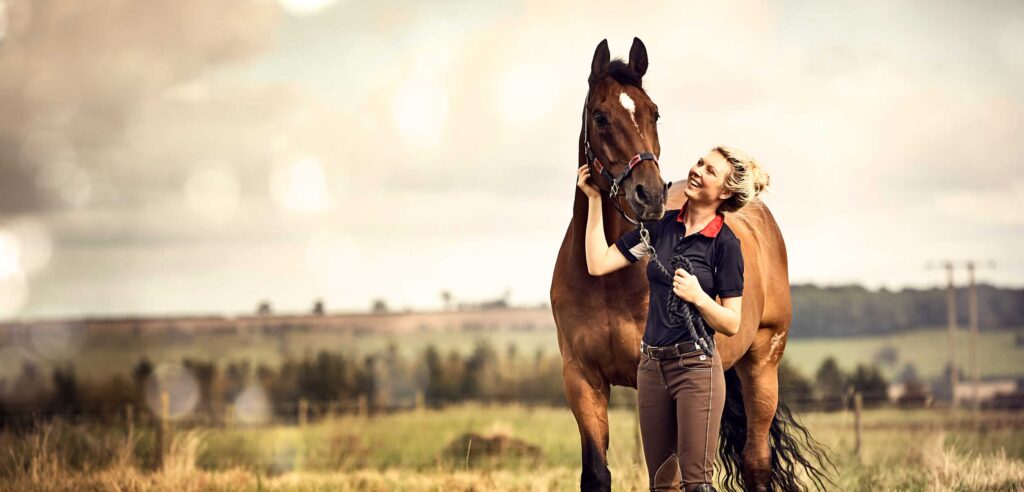 10 Steps to a Dust-free Environment
1. Feed Clean Forage
– The best way to ensure clean dust-free forage is to use a semi-wilted bagged forage made specially for horses, such as HorseHage.
2. Feed Good Quality Concentrate Dust Free Horse Feeds
– Any contamination by mite or mould will cause problems, as well as making the feed unpalatable – check for dust, smell and the "use by" date. A simple way of checking for mite is to put your hand into the feed, then remove it and watch the residue on your hand. If mite is present, apart from the smell you will notice the "dust particles" will start to move as they get warmer. If mite is present, you will need to throw away the feed, and may need to fumigate your feed store.
3. Correct Management of Dust Free Horse Bedding
– Use a dust free horse bedding. Avoid the use of deep litter, as it will allow the build up of noxious gases. Always muck out when the horse is out of the stable and allow dust to settle before putting him back. Remove cobwebs regularly.
4. Location of Stables
– Store any hay and straw and site the muck heap a good distance from the stable. Never store forage or bedding above the stable in hay lofts. Make sure that all the horses in a shared airspace or in adjoining stables are also in a dust-free environment.
5. Ensure adequate ventilation and drainage in stables
– Air vents should be provided in the eaves, and windows may be put in the back walls to ensure a good flow of air through the stable to remove stale air and harmful gases. However ensure the horse is not in a draught. Never shut the top door, except in extreme conditions – far better to add an extra rug. Good draining will maintain a dry bed and helps prevent the build-up of gases or moulds.
6. Groom outside if possible
– Ideally with the horse facing into the wind, so that any dust will be blown away, or use a vacuum grooming kit.
7. Consider travelling conditions
– Very important in the confined space of a lorry or trailer. Use dust-free forage and rubber matting instead of straw.
8. Manege management
– Keep surfaces dampened and remove droppings.
9. Pasture management
– Keep pastures clear of weeds and droppings to minimize dust and pollen levels.
10. Exercise regularly
– It is often forgotten that exercise will help to keep the animal's airways clear, but try to avoid riding on dusty tracks or near fields full of rape etc.
Finally, remember that any improvements to your horse's environment are also improvements to your environment as well – human allergies are also on the increase, and all the same factors apply.