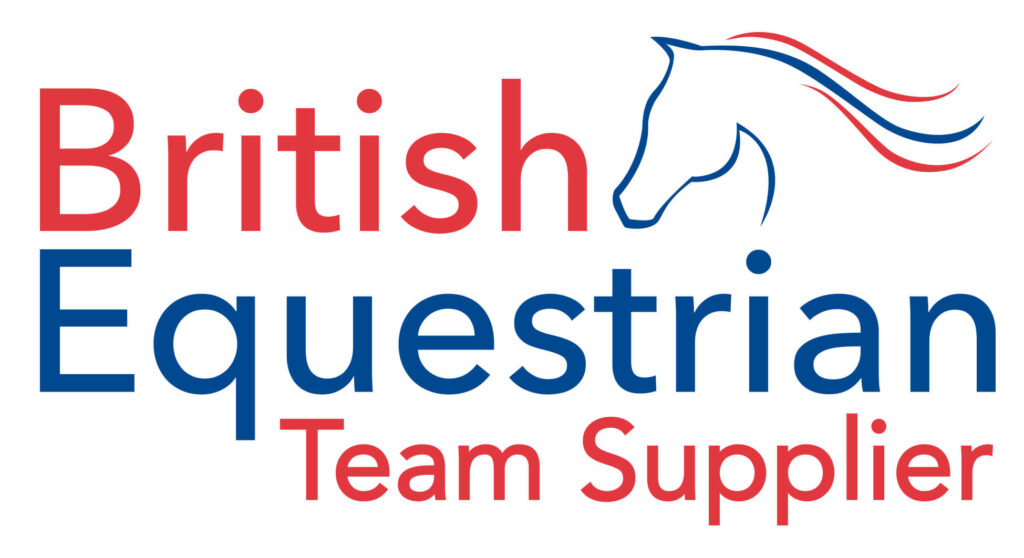 British Equestrian Team GB
HorseHage is incredibly proud to have been selected as the Official Supplier of Dust-Free Forage to The British Equestrian Team at every Olympic Games since Los Angeles in 1984.
We are delighted that, after so many years, HorseHage continues to fuel the success of Team GB and congratulate them on bringing home 5 medals including 2 golds from Tokyo 2020.
---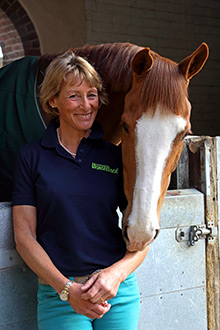 Mary King
Mary is one of the world's top event riders and has numerous prestigious championships to her name.
From 1992 to 2021, she has represented Great Britain at no fewer than six Olympics over twenty years and has an impressive number of world and European medals to her name, as well as being British Open Champion four times.
She has also won the prestigious four-star Badminton Horse Trials twice in addition to winning at Burghley and Kentucky.
---
Emily King
Emily, daughter of eventing icon Mary King, is following in her mother's footsteps and has forged her own very successful career on the international eventing circuit.

At the age of fifteen, she finished seventh individually at the Junior Europeans in 2011 and then claimed the silver individual medal the following year. In 2015, she was third at Chatsworth International Horse Trials in the CIC3*; fifth and sixth in the U21 CCI2* at Houghton Hall; fifth in the U25 CCI3* at Bramham International; second in the CIC3* in Ballindenisk and second in the Seven-Year-Old Championship at Osberton. She also won a team gold medal in the Young Rider Europeans and made her four-star debut when she finished in fourth place at Pau. Last season saw her win the U25 CCI*** at Bramham International. This season has seen her take a number of good placings including second and third at Belton International, fourth at Burnham Market International and third at Bramham International.

Emily's team of event horses are all fed on High Fibre HorseHage which is a high quality, dust-free bagged forage containing no chemical additives.
---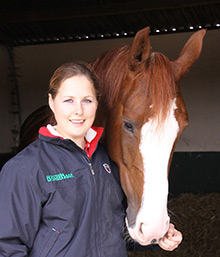 Roberta Sheffield
Roberta (Bert) Sheffield is a Canadian Paralympic team member and dressage rider based in the UK. She has suffered from rheumatoid arthritis for over fifteen years which affects her limbs and neck. She is classified with the FEI as having a Grade 3 disability and competes in both Paralympic and able-bodied competitions.
Bert represented Canada at the World Equestrian Games in 2014 and was placed fourth; she represented them again in 2018 as well as in the Rio Paralympics. She is aiming for selection for Tokyo next year with her own horse, Fairuza (Wonky).
---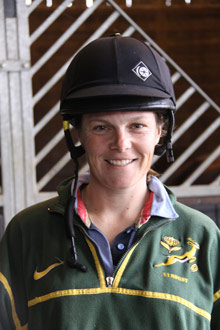 Lucy McCarthy (née Wiegersma)
One of the world's former top event riders, Lucy Wiegersma is the only British event rider to have won all three national eventing titles (Junior in 1995, Young Rider in 1998 and Senior in 2006). With wins over the years at Blenheim, Blair Castle and Bramham three-day-events under her belt, Lucy narrowly missed adding Badminton to the list when she finished in second place in 2008. She was selected onto the British three-day-eventing team for the Olympics in Hong Kong but sadly had to withdraw due to lameness affecting her horse, Shaabrak, which was a huge disappointment. The pair were also runners-up at the International Express Eventing Cup at Cardiff.
She was selected onto the 2014 GB Nations Cup CICO squad to represent Great Britain during the FEI Nations Cup Series, which is supported by the UK Sport funded World Class Programme.
---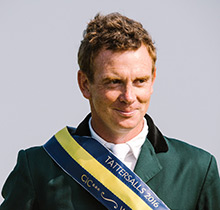 Padraig McCarthy
Originally from Tipperary in Ireland, Padraig has been involved with horses from a young age and trained under the guidance of Rolf Goran Bengtsson, Max Hauri and Hans Horn. This was followed by almost ten years spent show-jumping and training horses of all levels in Europe and the USA.
He made the switch from show-jumping to eventing and rode at his first BE event in 2013, climbing up through the ranks extremely quickly. By the end of the 2015 season, he had ridden for Ireland on several eventing Nations Cup teams, including the team that placed fourth at Aachen and the only Irish team to win an FEI Eventing Nations Cup at Boekelo. He was a member of the 2015 Irish European Championship team at Blair Castle and in 2016 he had his first three wins at 3* level, claiming victory at both Chatsworth and Tattersalls. As a result of this, he was selected for the Rio Olympics on both his top horses, Simon Porloe and Bernadette Utopia.
With a great eye for recognising talented young horses, Padraig has built up a wide client base who value his knowledge and experience. Along with his wife Lucy (see above), he set up their successful business MGH Sport Horses in 2014, based in Devon, breeding, training and selling equines for show-jumping and eventing and also coaching riders.
---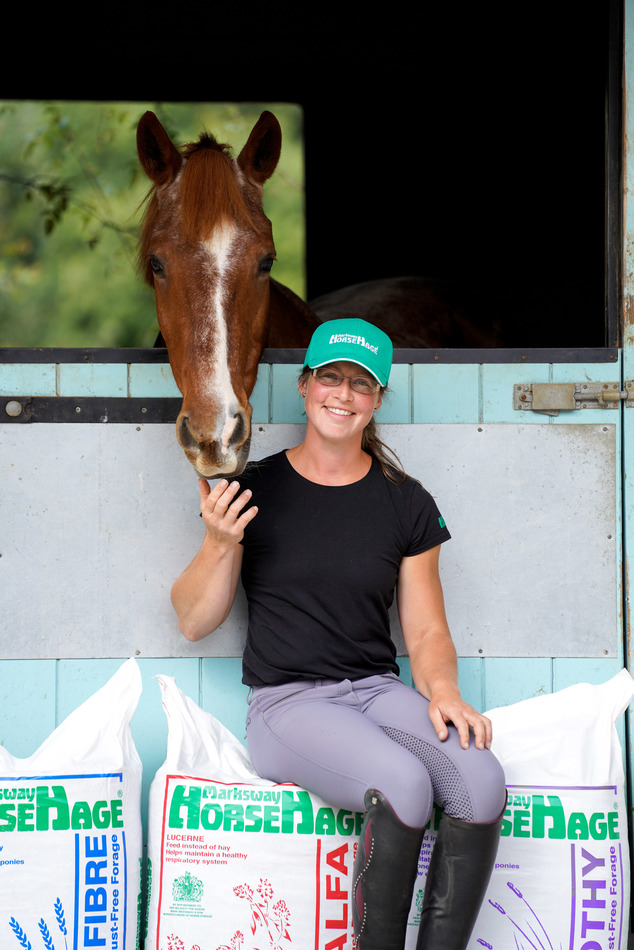 Charlotte "Pip" Blain
Pip is a dressage rider and trainer based on the West Sussex/Hampshire border. Her top horse is Jan Palmer's Donatella IV (Roo) who is a dinky chestnut mare that is successfully competing at Small Tour. Highlight results for the pair so far, came in December 2019 when they finished 3rd at the BD Small Tour Championships, and last year when they finished 3rd in the PSG Silver Petplan Final. This also saw them achieve international qualifying scores, which sadly injury prevented happening in 2021, but will hopefully be their aim for 2022.
Pip's other ride is younger horse, Frodo, who is an exciting prospect for the future. But a somewhat miracle horse to her after suffering a severe bout of colic, which required surgery, but he has bounced back to successfully compete in 2021.
---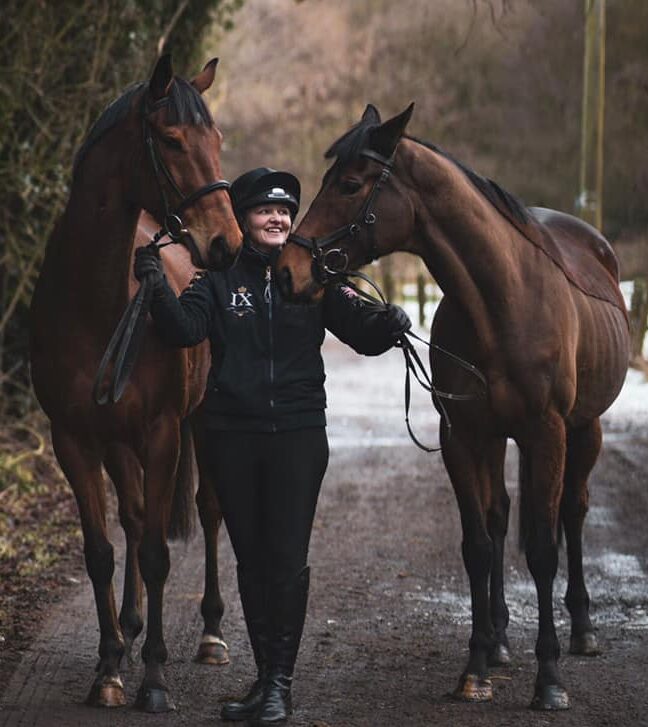 Winner of our Mollichaff Light Molasses Free Brand Ambassador competition, Shelley in her own words is "a 43-year-old legal specialist who is chasing my dream to ride at Chatsworth Horse trials at novice level".
A grassroots eventer, with two ex-racehorses Reggie and Mo, Shelley is very much the everyday eventer and one that HorseHage & Mollichaff is proud to support.
"I am enjoying every day with these boys and cannot believe the success we have had together in such a short time. I cannot wait to see what the future holds and look forward to the day we arrive at Chatsworth with champagne in hand!"
---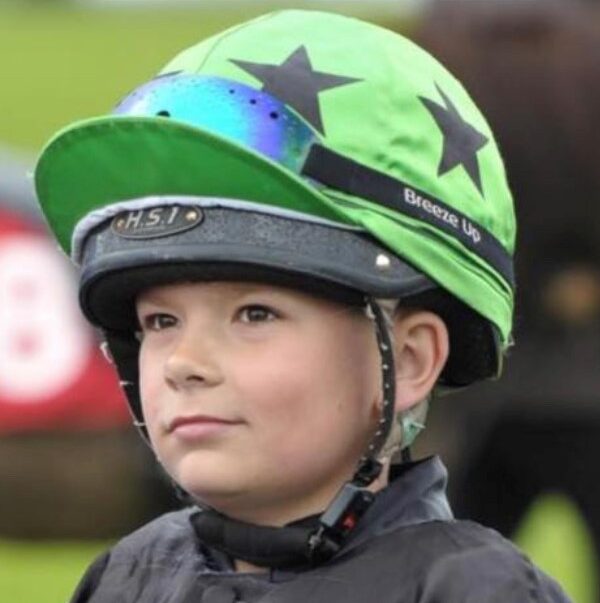 Alfie Diaper
Showjumper, Show Rider & Shetland Grand National Jockey.
Alfie has been riding since a young age, riding with the pony club and in Shetland Grand National. He is looking forward to competing in British showjumping this year with an exciting team of ponies (138cm) and is hoping to be part of the children on horses teams. Alfie uses a variety of Horsehage and Mollichaff products with horses and ponies.
Alfie had a fab end to 2021 with a win at 1m30 with Rosa and a great start in 2022 qualifying for the winter 138cms second rounds on Go Fast D'Argan.
Alfie is supported by his parents Helen and Wayne, they are extremely proud of how hard he works and what he has achieved.
---
Other Sponsorships
We supply forage to the Horse of the Year Show. We also support some smaller organisations including Calon RDA, Bryndafydd Animal Assisted Therapy and John Nuttall's award-winning beach donkeys in Lincolnshire. We are also sponsoring the British Riding Clubs Intermediate Winter Championships.