"(Pre lockdown!)… After what seems like an incredibly long and wet winter, it looks like we are starting to come out the other side slowly but surely. Now that we have our spring entries done we are looking forward to some drier and somewhat sunnier days ahead!
"We have been keeping ourselves busy over the winter months with the younger bunch of horses. Two three-year-olds were purchased by owners at the sales in Ireland back in November – one being a stunning mare called Mellow Lane that we spotted at the Monart sales – and the other being Kilbunny Emperor, a lovely gelding that we spotted the following week at the Goresbridge Go For Gold sales. The two of them have been a pleasure since they arrived. They had a couple of weeks out in the field when they arrived here from Ireland, after what was probably quite an intense learning curve for them both, being prepped and shown off at the sales. We always think it's nice for them just to have a little breather out in the field before we begin to get them backed and broken in.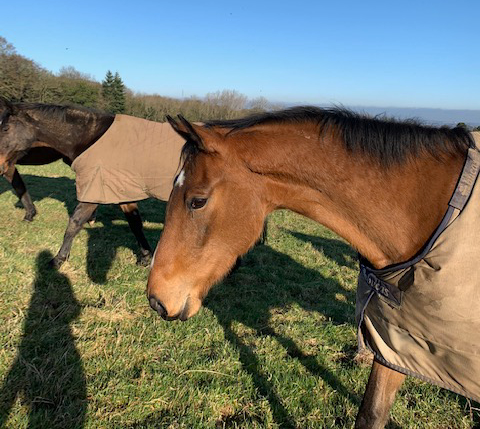 "A few weeks on, we got them in and slowly started backing them, which they both took in very much in their stride. They were not particularly phased by anything that we asked of them so as soon as they were both happy to walk, trot and canter off the lunge by themselves, they were then turned away out in the field again, to let everything sink in and allow a bit of growing in their natural environment.
"This Christmas was a bit different for myself, as I was lucky enough to fit in a short break abroad. Myself, Dad, Freddie (brother) and some family friends flew out to Australia to meet Mum as she came into dock from her very impressive Round The World Clipper sailing race! The Clipper race is well known for its seriously tough conditions, so we were all incredibly proud of yet another great achievement from Mum!!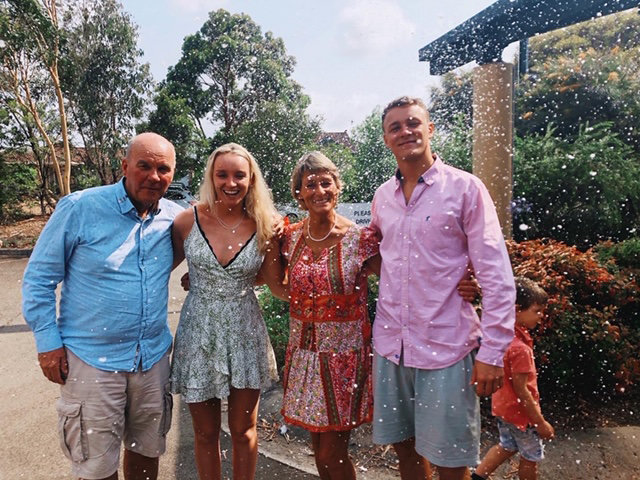 "On a very quick turnaround once back from Oz, we were putting in the last few preparations for the arena eventing that I took part in at the fantastic Liverpool Horse Show. I took Langford Take the Biscuit (or Hobby, as he's known at home), who I must say tried his little heart out, but was slightly overwhelmed by the huge atmosphere and the sheer amount of people he had watching him indoors and under all the lights! Unfortunately, due to his little bit of stage fright, in his performance he was not his usual bold self, so I made the decision to retire him and save his confidence for what he's best at, once the season gets under way.
"As well as the two new three-year-olds, I am very excited to introduce two new rides to my yard from Philippe Brivois, owner and founder of the Biats Stud, who joined my team just after Christmas. Introducing Valmy Biats, who is an 11-year-old gelding that will be stepping up to Advanced level this year, and America Biats, a 10-year-old mare who will be stepping up to Intermediate level. They have been a joy to have and very quickly became popular with us all on the yard. I am very excited to get them out and about this year as they both have immense talent and fantastic temperaments to match. I will be looking to gather a Team King syndicate for this pair to help run them this season and this will be a very exciting opportunity for anyone that is interested in joining the team!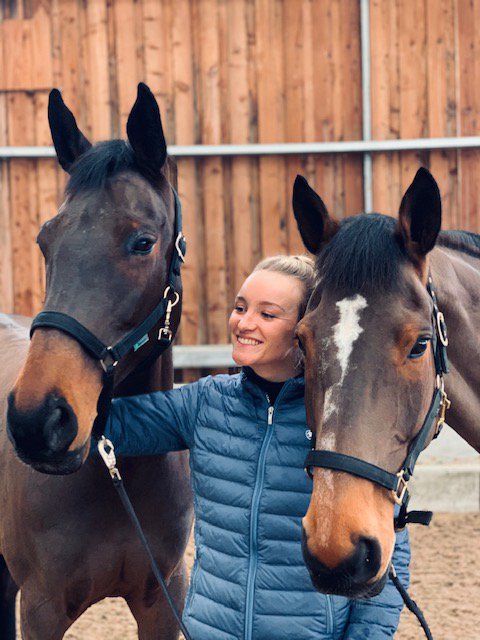 "I had a great day teaching with Mum at Callum Banfield's lovely yard in Gloucester. We had a great time meeting and teaching everyone and it was fantastic to see how much young talent we've got out there.
"Before the season got underway, Mum and I hosted a lecture demonstration evening at Hartpury College. We were not blessed with good weather, so we were immensely impressed with virtually a full house despite the severe weather conditions! We had a wonderful evening showing the audience different flat work and jumping exercises and techniques we use on both the younger and more experienced horses. I took my two new rides, Valmy and America Biats, who behaved perfectly and the evening acted as a good pre-season outing with them both having to perform in front of a large crowd. It was lovely to meet everyone in the audience afterwards and discuss any problems they were having with their horses.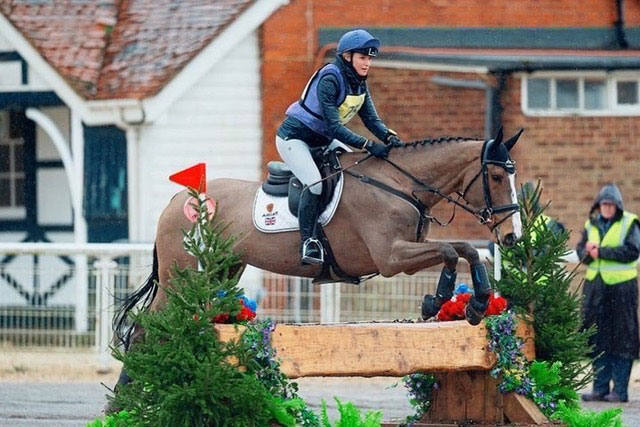 "After getting in a bunch of successful cross country schooling sessions and Kelsall Hill and Somerford Park, plus a few British Show Jumping outings, we were ready for our first event of the season at Tweseldown. After a rather early start (2.45am leave) Ellie (my head girl) and I set off to Fleet with four horses on board – MBF Arctic Emperor, Valmy Biats, Langford Take The Biscuit and Vámonos. MBF Arctic Emperor (Penguin) kicked off the season with a sweet and obedient test of 28, followed by two great jumping rounds on the SJ and XC for 3rd place! Then unfortunately the bad news was broadcasted across the event – due to the awful and relentless weather conditions, it left the organisers with no other choice but to make the decision to abandon the event. It was such a huge shame for all involved, but the safety of the horses and competitors is paramount so it really left them no other choice. Luckily Penguin managed to get a run in, but the other three were very confused starting their five hour journey home having not been across country!!!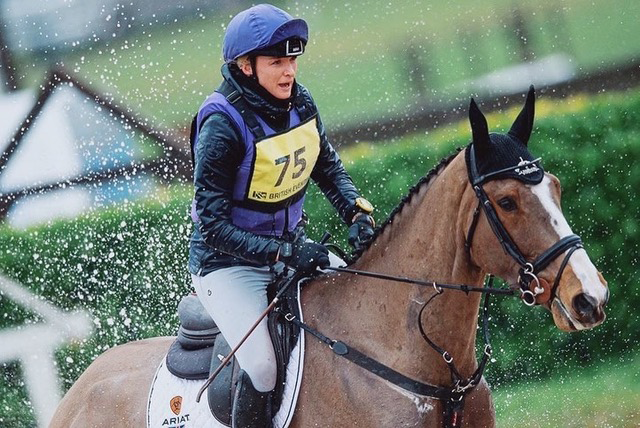 "I have a new fantastic sponsor, Supreme Products, who have joined the team. They kindly supply us with a fantastic range of horse shampoos, conditioners, make-up and the most amazing quarter marking and mane and tail sparkle, which makes the finishing touches look fantastic at the shows!
"I would like to also say a huge thank you to the rest of my amazing sponsors and owners for their continued support. They simply help make everything possible. The results that we get with the horses is such a combined effort and would not be doable without each individual that's involved.
"Now that we all sadly face these uncertain times, with the eventing calendar and much more cancelled until further notice, it is very important that we all keep safe and make the necessary adjustments to our daily routines. For us, we are very lucky to be able to carry on caring for and training our horses. All of the horse are still in work but they are spending much more time out in the field, they are working at a much lower intensity and each horse is focusing on improving their individual weaknesses. It's a great time to spend lots of one-on-one time at home with our four and five year old horses. They are all quite different characters but equally talented and it is lovely seeing them grow and learn what life is all about!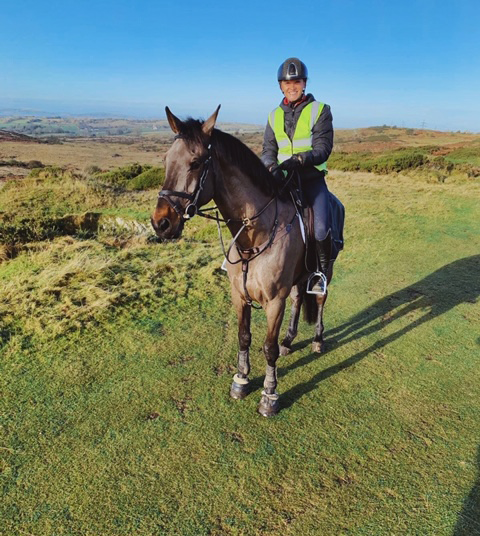 "In the meantime, please everyone keep safe and hopefully we will be back to our normal lives in the not so distant future! Many thanks again for all of your continued support"
Best wishes,
Emily x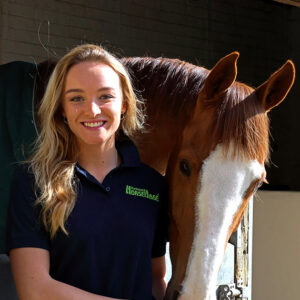 About Emily
Following in her mother's footsteps, event rider Emily, who is just 22 years of age, competed at her first event aged just 12 and represented Great Britain at the age of 15, finishing 7th overall. She won individual silver at the Junior Europeans in 2012, team gold in the Young Rider Europeans in 2015 and in the same year made her four-star debut at Pau, finishing in fourth place.