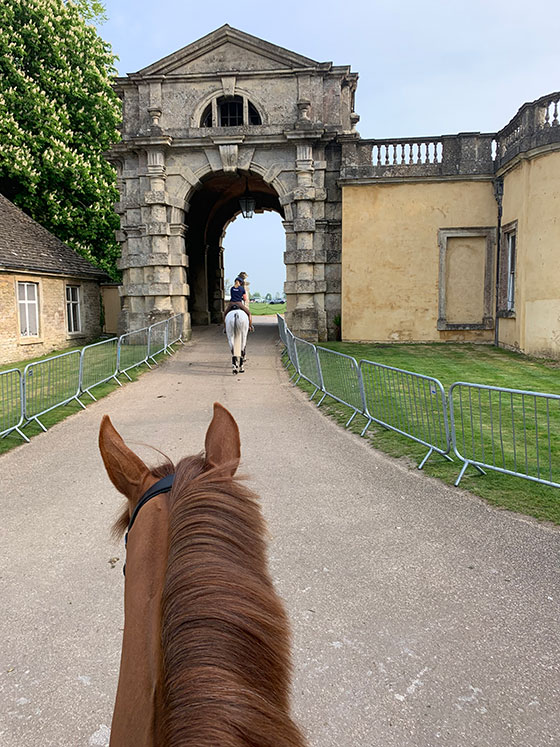 "It was an honour to compete at Badminton Horse Trials again this year. Unfortunately it didn't go quite according to plan, but luckily we're both safe and sound and live to fight another day!
"We travelled down to Badminton on the Tuesday, so I could take Dre (Dargun) for a gentle hack around the park that afternoon and get him nicely settled in before the trot up on the Wednesday. The stables at Badminton are just stunning and they put me where Mum used to be stabled, which was a very nice touch!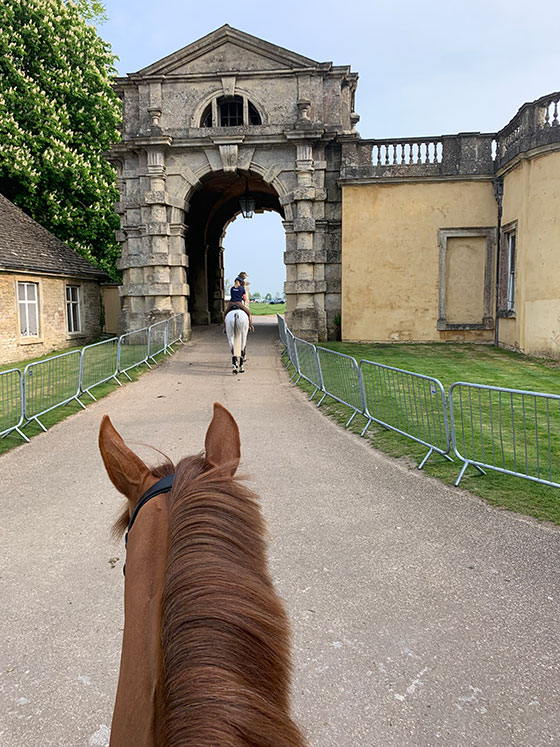 "Wednesday was trot-up day and consisted of Dre having a leg stretch in the morning and then lots of bathing and beautifying pre the vet's inspection in the afternoon. Jess, my wonderful head girl, did a superb job as usual and turned him out immaculately. It's lovely to have such prestigious trot-ups at these big internationals as it allows our wonderful grooms to showcase their incredible skills and receive the recognition they deserve!
"Dre was fit and healthy and flew through the trot-up with no complications.
I had been drawn number 21, which meant we did dressage on Thursday, late morning. Dre is a fairly relaxed character so I didn't have to do a huge amount of work before his test. However, he can become a little bit tense, therefore my plan was the same as at a normal three-day-event where I would work him once first thing, bring him back to the stable for a break and then get on him for my test.
"My dressage trainer, Richard White, arrived first thing on Thursday to help give Dre a pre-test work-in on Thursday morning. He then also helped me do my final warm-up before my test. Dre was feeling fantastic all morning, the best he's ever felt, however, when I went in for my test I felt I may have worked him a little too much, as he went a little bit opposite to how he normally feels and became a little too quiet in the arena. Due to this, a few uncharacteristic mistakes crept in, which was a real shame. I was still really pleased him and how he coped in such an atmospheric environment. We scored 31.7, which, considering we had four big mistakes, the mark was still very respectable and we were in 21st position after dressage. It was very tight, scoring-wise, in the dressage as there were 11 combinations on a 31 mark, so it was all to play for on the cross country.
"Friday was a quiet day. I worked Dre in the morning and then he relaxed for the rest of the day whilst I walked the course numerous times and got in the zone for the following day. The cross-country course walked extremely big and bold and there were plenty of questions from start to finish. The jumping efforts were relentless, so we knew the horses would find it a real fitness challenge.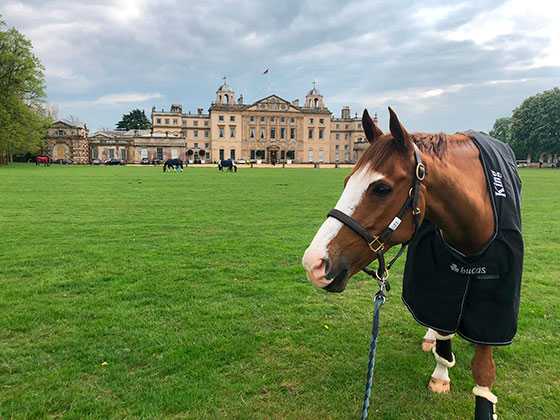 "Saturday morning Dre went for a nice long graze. I feel it's good to give the horse's legs a nice stretch on the morning of cross-country day to give them some light exercise without actually riding them. I got on Dre half an hour before my cross- country time. It's quite a long walk to the start so I gave him a trot and a canter once I was in the warm-up area, then popped him over a few of the warm-up fences and tested our gears. He was feeling great. The start officials let you know four minutes before your start time and you are then allowed to make your way up to the main arena and starting box.
"As I set out of the start box to fence number one, Dre didn't feel his usual feisty self but I kicked him on and we had good few jumps over the next fences. He still wasn't feeling 100% his usual self. Nevertheless, he jumped the Savills Staircase, the Joules Corners and the Shogun Hollow very straight and honestly. We then galloped onto the footbridge. When Dre was galloping between the fences, he wasn't pulling and drawing as he usually would and he was feeling like this as I came around to the footbridge. Unfortunately, I made a mistake as a rider and we ended up coming too close to the footbridge. This, combined with him not feeling his usual self, resulted in him jumping very 'up and down' over the fence and landing on the back rail. Luckily these days, all railed oxers are fixed with frangible pins which are fantastic as they prevent serious injury to both horse and rider.
"Luckily Dre and I walked away completely unscathed. Dre had a very good cool down when he got back to the stables and got trotted up to check that no minor injuries had occurred, which thankfully hadn't.
"So it was a real shame to not have the Badminton we were hoping for, but things with horses certainly don't always go to plan and I am just extremely thankful that Dre is fit to fight another day.
"I am planning on giving him a nice run round the OI at Bishop Burton next weekend and then he heads to Bramham for the CCI4*-L Under 25 National Championships. So fingers crossed we have a good couple of runs and get back on track!!"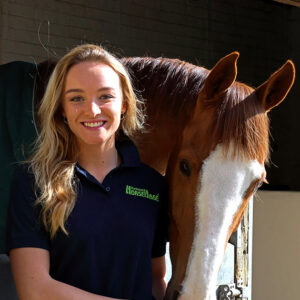 About Emily
Following in her mother's footsteps, event rider Emily, who is just 22 years of age, competed at her first event aged just 12 and represented Great Britain at the age of 15, finishing 7th overall. She won individual silver at the Junior Europeans in 2012, team gold in the Young Rider Europeans in 2015 and in the same year made her four-star debut at Pau, finishing in fourth place.