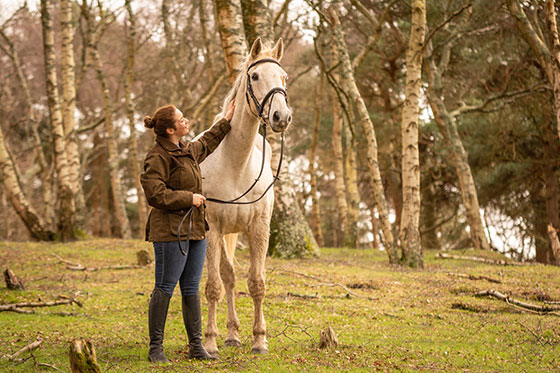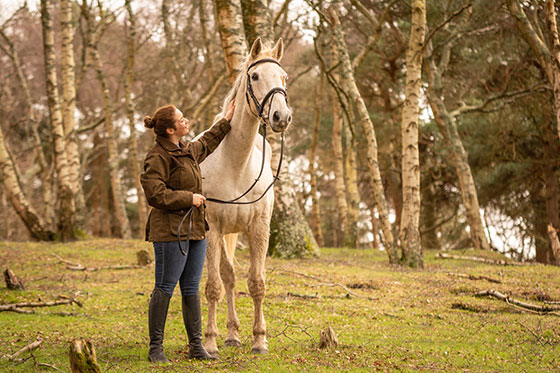 Lakeside Brogan, a 17.2hh grey Irish Sports Horse is a fussy feeder and his owner, Lydia Goodband from Dorset, was struggling to find a feed that he really enjoyed.
Seventeen-year-old Brogan is ridden up to six times a week when in full work and Lydia enjoys competing at show jumping and eventing with him. He is turned out all the time during the summer months but is stabled at night over the winter.
She first heard about Mollichaff ShowShine, which is flavoured with cherry and very appetising, when she helped out on the HorseHage trade stand at the Badminton Horse Trials and took a couple of samples home for Brogan to try.
Said Lydia: "He absolutely loved it so I have kept him on it and he has stayed in beautiful condition and, as well as being a great feed to keep his fibre levels up, it also helps to top up his energy levels a little."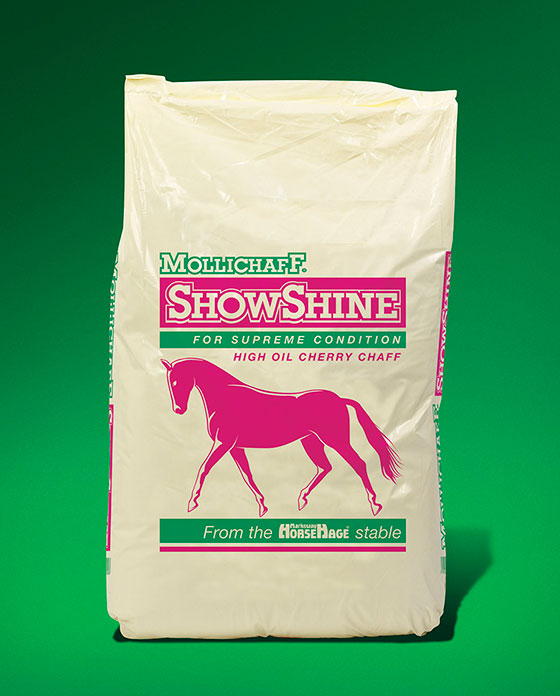 Mollichaff ShowShine is a high oil chaff and is formulated to provide ultimate show condition. It is flavoured with cherry to give it a delicious taste so is ideal for picky eaters. Many feed manufacturers add flavourings to their products to make them more appetising and when formulating Mollichaff ShowShine, cherry flavouring was chosen following the results published from Kentucky Equine Research* which conducted a preference test on horses to evaluate if the rate of intake of oats could be influenced by the addition of fruit flavours. The four flavours tested were apple, cherry, teaberry and citrus and it was the cherry flavour that had the greatest influence on palatability.
Made from the highest quality oat straw that has been chopped and dust extracted, Mollichaff ShowShine is naturally high in fibre and contains a unique coating which combines high levels of soya oil with a light dressing of molasses. This gives extra bloom to the coat and that added condition required by some horses and ponies. Limestone is added to provide additional calcium for healthy growth and stronger bones.
Mollichaff ShowShine will add extra fibre to hard feeds, and can be mixed with concentrates to prolong feeding time and aid digestion by stimulating the production of saliva. The extra fibre helps prevent bolting and reduces boredom while your horse is stabled. It can also be used in place of hard feed if fed alongside an all-purpose vitamin and mineral supplement or feed balancer.
*M.A.P. Kennedy, T. Currier, J.Glowaky and J.D. Pagan Kentucky Equine Research, Inc., Versailles, KY.