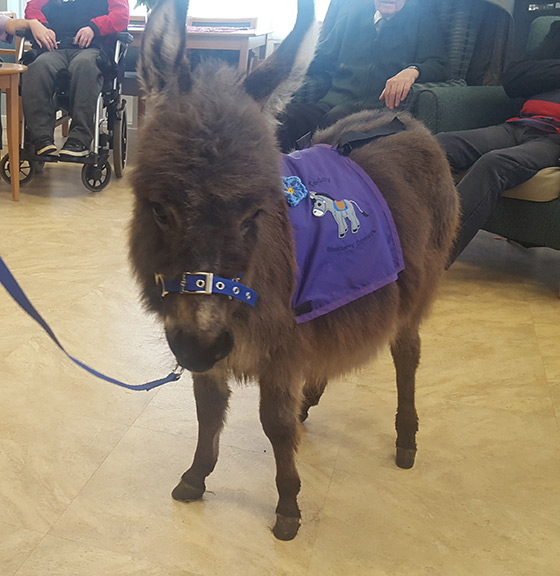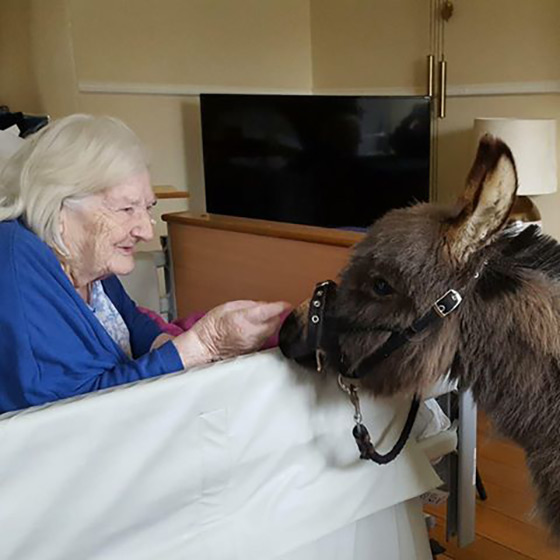 Teddy, a registered Miniature Mediterranean donkey gelding recently became a fully-fledged member of Blackberry Donkeys when he undertook his first official visit last month to a day centre near Stockton-on-Tees.
Teddy was invited to visit the centre's clients as part of their 'Dementia Action Week' and he completely stole the show. Standing at just 22 inches high, his small stature was complemented by his gigantic personality and the clients at the centre were thrilled to meet him.
Said Emma, one of the team members at the centre: "We absolutely loved Teddy and the centre has been buzzing all day talking about him. He definitely made an impact!"
Teddy was awarded with a knitted forget-me-knot to attach to his jacket and was made a 'Dementia Friend'.
Blackberry Donkeys is based in Hartlepool and is run by 38-year-old Marie Bates. The team consists of Teddy plus four standard donkeys and is licensed to offer donkey rides, meet and greets and educational and donkey assisted therapy visits around the north of England.
Marie is a qualified Primary School Practitioner, NVQ Playwork and Horse Care Assessor as well as being a riding instructor with RDA experience so is well equipped to offer a very professional service.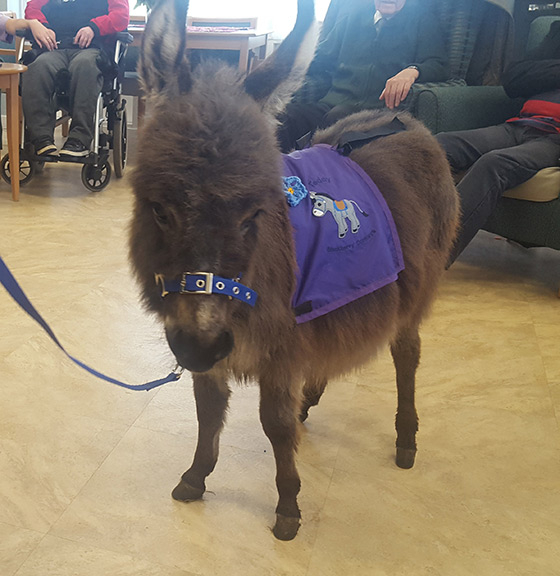 Said Marie: "Teddy is already becoming a real favourite within the team as he has such a super personality. He loves people and is a bit of an attention seeker so taking part in donkey assisted activities is a perfect career for him."
Teddy is fed on Mollichaff Donkey – a highly palatable, complete feed formulated especially for donkeys. It contains a balanced blend of dried grass, fibre pellets, oat straw and soya oil with camomile, mint and lemon balm, along with a broad spectrum vitamin and mineral supplement. It is low in sugar and starch and energy and is suitable for donkeys, mules, horses and ponies that are prone to laminitis. When fed at the recommended levels, it needs no further supplementation other than good quality forage.
Said Marie: "Because Teddy is a young, miniature donkey, I wanted a palatable feed that is low in sugar, starch and energy, whilst providing plenty of fibre plus the vitamins and minerals required for healthy growth, and at a reasonable price. That is why Mollichaff Donkey is my choice of feed for Teddy."