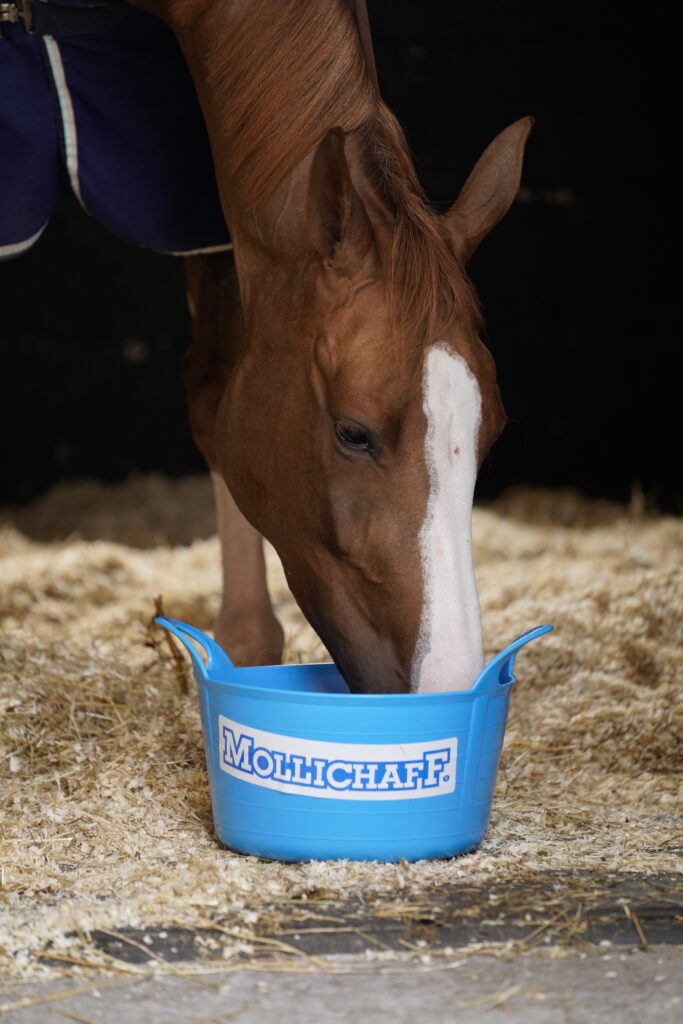 As horses and ponies age their nutritional requirements change, which means their diets need to adapt accordingly. It is key to assess and feed your horse as an individual. Each horse grows older differently therefore their age should not dictate their dietary requirements.
In this article, we run through some general advice for ensuring your veteran horse stays as healthy as possible throughout their older years.
What Should I Feed My Senior Horse?
Dental issues in older horse are common and often the main cause of weight loss. The deterioration or loss of teeth can make it difficult for them to chew sources of essential fibre like long stem forage (grass, hay or haylage).
You will be able to tell a horse is having difficulty chewing forage if they begin quidding or you observe long length fibre in their droppings.
Another key change horses experience with age is decreased digestive system efficiency, which causes a decline in their ability to absorb nutrients. This means it's vital that you're providing your horse with easily digestible feed with high quality nutrients.
Good Quality Forage
Fibre is a core component of maintaining condition and digestive system health as well as reducing the risk of painful stomach ulcers developing or other digestive related issues.
If your horse or pony is struggling with the long strands of hay or haylage and they are losing more weight during the winter than normal you may need to provide alternative sources of fibre. If your horses weight loss is of a concern, please consult your vet.
Forage replacers can be used in place of long stem forage to overcome this issue and ensure their forage requirements are met. Choose a forage replacer that is short chopped and soft in texture. Ensure you are providing enough by weighing out how much you feed and provide in several small meals throughout the day to reduce the risk of your veteran being with out anything to eat for long periods. You may need to adapt the diet to include soaked ground fibre feeds as they grow older.
Water
Water is one of the most important parts of a horse's diet, and making sure your older horse has access to fresh water can reduce their risk of colic. PPID tends to cause increased water intake and urination so additional water will be required if your horse or pony has developed this condition with age.
Key Nutrients and Vitamins
It is highly recommended that all horses and ponies of any age are provided a broad-spectrum vitamin and mineral source to promote a balanced diet. This is even more essential for our older equines.
Supplements can also be added into a veteran horse's diet for additional support and maintenance.
Arthritis is common in ageing horses, and unfortunately, it's difficult to prevent. However, supplements like glucosamine may offer joint support for arthritic horses and could help improve mobility.
Digestive health can also be supported with prebiotics and probiotics that may improve the activity of kind gut bacteria and makes fibre digestion more efficient.
Mollichaff Veteran for Older Horses
Containing a blend of only natural ingredients, Mollichaff Veteran is a highly palatable feed for older horses that are unable to consume long forage and require a partial forage replacer.
Enriched with added vitamins and minerals, plant-based antioxidants, mint, nettle, salt and biotin, Mollichaff Veteran makes an excellent additional forage source for both older horses and youngstock.
Give our friendly helpline team a call, Monday to Friday 8am to 5pm, on 01803 527274 to discuss the suitability of Mollichaff Veteran for your horse or pony.