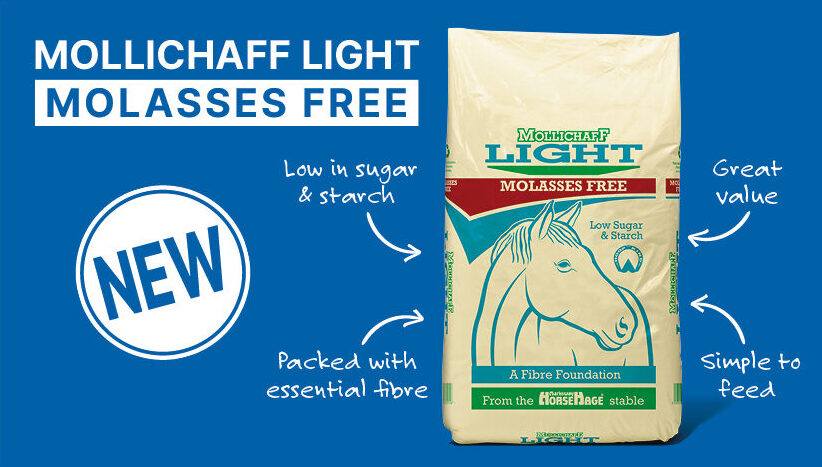 We are excited to announce the launch of the brand new Mollichaff Light Molasses Free – a healthy option for all horses with no molasses, alfalfa, cereals or preservatives!
Mollichaff Light Molasses Free is low in sugar, starch, and calories, making it the perfect low-cost option for:
Providing all horses and ponies with essential fibre
Horses and ponies that require a low sugar and starch diet
Laminitis prone horses and ponies
Overweight horses and ponies, and those in need of a calorie-controlled diet
Horses and ponies experiencing symptoms of gastric discomfort
Partially replacing hay for those on low calorie diets
"Applying our more than 30 years of experience producing high quality and great value chaffs, we are proud to add to our range another great chaff for owners and riders looking to add fibre to their horse or pony's diet." Said Mark Westaway, Marketing Manager at HorseHage & Mollichaff.
What Ingredients Are in Mollichaff Light Molasses Free?
Mollichaff Light Molasses Free is made from a unique blend of dried grass, straw, soya oil and flavouring, with added fibre pellets to stimulate interest and chewing.
The soya oil used in the latest addition to our dust-free chaff range provides essential fatty acids that help maintain healthy skin and promote a glossy coat, ensuring your horse or pony always looks its best.
Not only this, but the high fibre content promotes a healthy digestive system.
Try Mollichaff Light Molasses Free
Mollichaff Light Molasses Free will be available in a 12.5kg bag, for further information on equine feeding and to request your free sample please call the HorseHage & Mollichaff Helpline on 01803 527274 or visit our contact page.