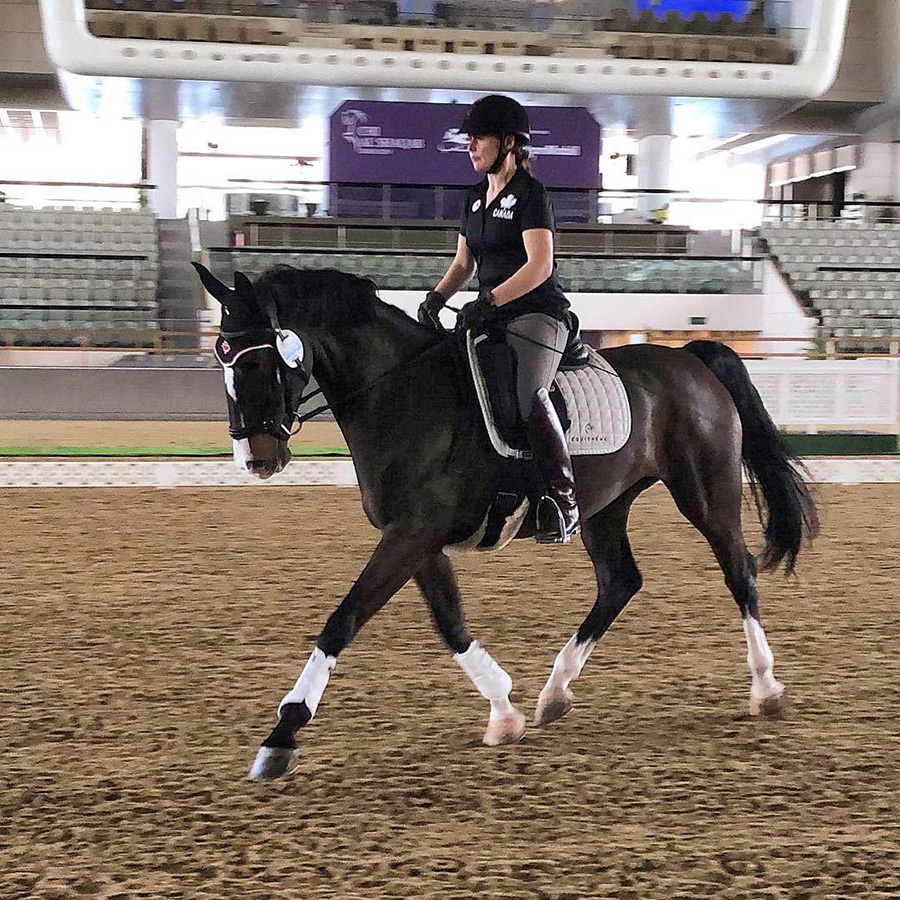 HorseHage-sponsored para-dressage rider, Bert Sheffield, who is based in Lincolnshire but rides for Canada, and her 10-year-old, home-produced, part-bred Gelderlander mare, Fairuza (known affectionately as 'Wonky' at home), pulled out all the stops at the recent CPEDI3* invitational competition at Al Shaqab in Doha, Qatar, to win the Grade III Freestyle on the final day with a score of 70.167%.
Bert and Wonky's first warm-up at Al Shaqab
This annual equine extravaganza saw 22 riders from 10 countries invited to compete at the state-of-the-art facility on the Arabian Gulf. The Al Shaqab equestrian centre covers 980,000 square metres and has a stable capacity for over 400 horses. As well as being the country's leading equine education resource centre, it is a centre of excellence for equestrian competition and the breeding of Arabian horses. This in itself provided a world of unfamiliar sights, sounds and smells for the inexperienced Wonky who had never travelled out of the UK, let alone competed in such an awe-inspiring, larger-than-life atmosphere.
Bert herself has a wealth of experience competing on the international stage, having competed at Doha before as well as representing Canada at two World Equestrian Games and also the Rio Paralympics in 2016, but it was a totally different story for Wonky who only started working under saddle three years ago!
Wonky was purchased as a semi-feral, unhandled six-year-old straight from a hill herd and had to learn practically everything from scratch. Bert has worked tirelessly with her, using natural horsemanship techniques to get her to this point in her career and is aiming to expand on her international experience throughout this season in the hope of making the Canadian Paralympic team for Tokyo 2020.
As well as her first time competing abroad, it was also Wonky's first time flying but she took it all calmly in her stride and coped magnificently. In the Grade III Team Competition on 7th March, Wonky was slightly spooked by the sights and sounds of such an impressive venue but pulled things back the following day for the Individual Competition finishing in third place, and going on to wow everyone by winning the Grade III Freestyle on 9th March.
Said a delighted Bert: "I am so proud of how Wonky has handled this whole experience – I really couldn't be more thrilled. Over the three days here she gradually settled into the atmosphere and really stepped up to the challenge."
"The music for my Freestyle test was kindly compiled by Rich Neale for the stallion, Bailaor XXXIII who I competed on last season. We had to adapt it slightly for Wonky but after today, I think she deserves her own music to dance to!" added Bert.
Bert is sponsored by us here at HorseHage and Wonky enjoys the Timothy variety of our dust-free bagged forage which contains no chemical additives and has NOPS certification.