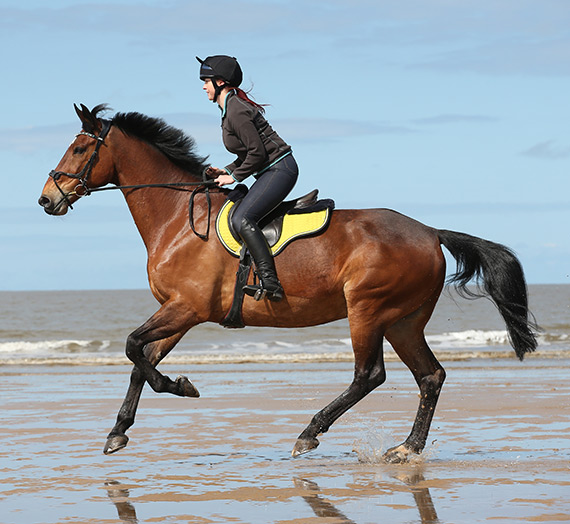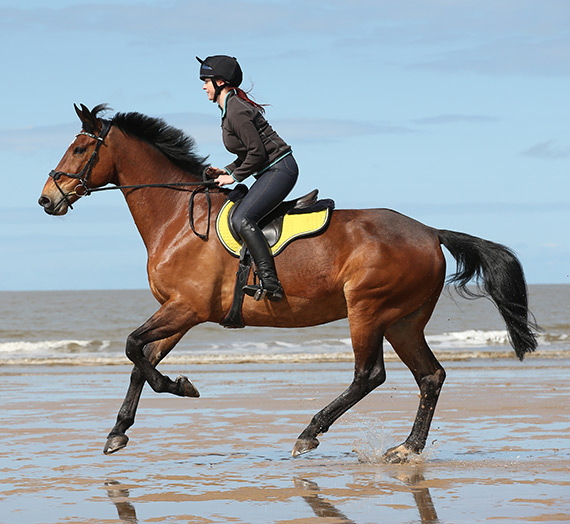 Owned by Michelle Byard for three years, Lux is a 17hh, 13-year-old Irish sports horse. When Michelle first purchased him they enjoyed competing together at show-jumping and dressage at their local riding club. However Lux was diagnosed with arthritis and so needed to slow the pace down and so Michelle turned his hooves to showing, where he has had much success as a middleweight hunter.
Michelle found that Lux was prone to choke, a condition in horses where the oesophagus becomes blocked by food and the horse is unable to swallow. After this happened twice, Michelle realised she needed to include more fibre in his diet to slow his feeding down and chew his food properly.
After speaking to our team on the HorseHage & Mollichaff trade stand at the Burghley Horse Trials last year, she found out about the Mollichaff range of complete feeds and chaffs and took a free sample of Mollichaff Calmer Complete for Lux to try, which he loved.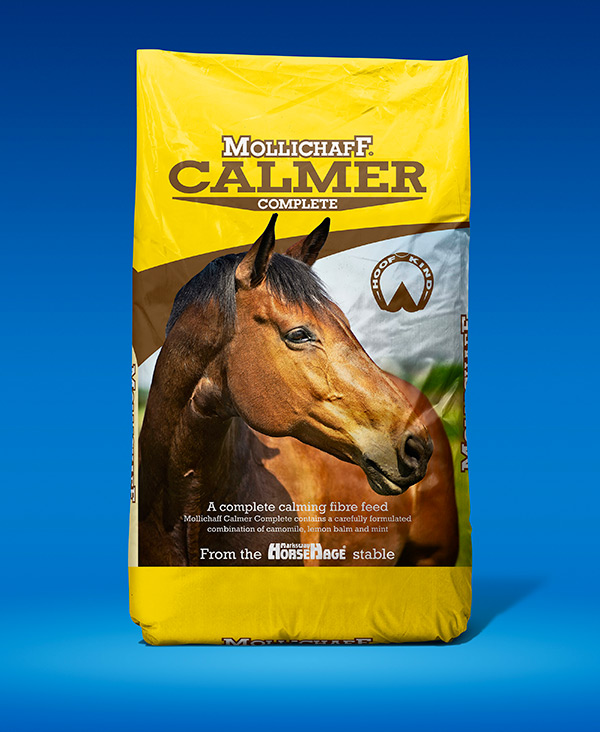 Mollichaff Calmer Complete is a complete high fibre feed formulated for nervous or fizzy horses. It contains a balanced blend of fibre pellets, oat straw, dried grass, herbs, soya oil, limestone and trace elements, and it can be used as the sole bucket feed when fed at the recommended levels as it contains a broad spectrum vitamin and mineral supplement.
Mollichaff Calmer Complete includes elevated levels of magnesium along with camomile, lemon balm and mint, to help relax your horse, plus vitamins B1 and B12 which are known to help decrease anxiety by exerting a calming influence on the horse. Michelle opted for Calmer Complete as she hopes it will help Lux cope with some of the big shows he will be attending this season, such as the Royal Norfolk and Equifest.
Like all the varieties in the Mollichaff range, Mollichaff Calmer Complete is full of fibre and by stimulating the production of saliva and slowing down the passage of food throughout the gut, it can help maintain a healthy digestive system. In particular, this calming horse feed will satisfy a stabled horse's psychological need to chew as it requires up to 8000 chews per kilo to eat compared to as few as 1200 for concentrates.
Lux is very sensitive to cereals and high sugar feeds so Mollichaff Calmer Complete suits him very well as it's fibre-based rather than cereal and is low in starch and sugar, providing limited controlled energy from high quality, digestible fibre and oil-based ingredients. It is even suitable for horses and ponies prone to laminitis and because it's a complete feed, Michelle no longer needs to add a supplement.
Said a delighted Michelle: "I am so happy to have discovered Mollichaff Calmer Complete for Lux. He is doing so well on it and has had no episodes of choke since being on it. He loves it too and leaves a clean bowl after every feed!"
Until the end of April we have a special promotion offering £2 off a bag of Mollichaff Calmer Complete (in participating stockists, whilst stocks last), so don't miss out!