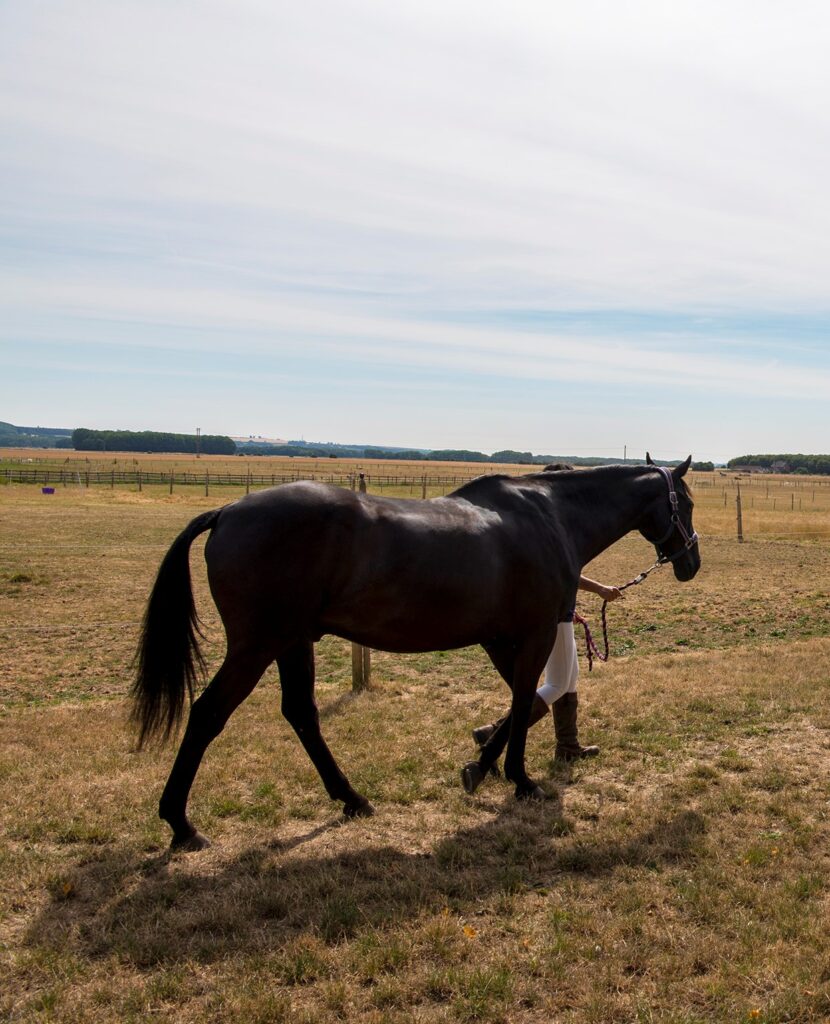 As much as we love the spring sunshine leading into summer, periods of little or no rain fall coupled with warmer temperatures can require owners to consider their horses diet differently in dry conditions.
Many horses rely on grass as their main forage source during the summer months as they have extended periods of time at grazing or live out. The pasture they normally graze on can become dehydrated which quickly impacts plant growth.
The British weather is always unpredictable, so you never know how long a dry spell is going to last for. Here are some tips to make sure you're prepared for the warm seasons and you keep your horses healthy.
Dry Conditions & Your Horse's Diet
First of all, this is a general reminder that frequently changing your horse's diet and introducing unfamiliar forage, grazing and feeds can increase the risk of health problems. It's important to remember to always make any adjustments slowly and gradually allowing the hindgut to adapt.
Increase Their Fibre Intake
Consider whether your horse really needs additional fibre. Pasture can look very sparce but, if your horse is maintaining their weight and producing a similar number of droppings, supplementing their fibre ration may not be necessary. If your horse is losing weight or the grazing available isn't meeting their fibre requirements, additional fibre will need to be provided.
Forage, such as hay or haylage, that is suitable for the individuals' nutritional needs can help to counteract a fibre shortfall. Fibre is not only a source of calories but it is also vital for digestive health and mental wellbeing. HorseHage High Fibre is high in fibre and can be combined with straw to reduce the overall calories and increase the amount of forage the horse can have.
If your horse isn't maintaining their weight, consider a forage with a higher calorie level before introducing high levels of bucket feeds. Ryegrass HorseHage not only provides additional calories, but it also increases fibre intake and extends chewing time. Mollichaff Veteran and Mollichaff Light can be used as partial forage replacers providing excellent sources of supplementary fibre and offering environmental enrichment.
Always Provide Water
Of course, the warmer weather means there is a higher risk of dehydration. Make sure there is always fresh, clean water out for your horses and preferably this should be from the field tank rather than the tap as horses often favour this.
Little & Often
It is essential that all horses and ponies are provided with a vitamin and mineral source in their diet to encourage a balanced diet and optimum health. Owners often opt for balancers and supplements to provide the recommended vitamin and minerals. Choosing a complete feed can be preferential especially during dry drought conditions.
Complete feeds are usually high in fibre and offer a more natural way of feeding as they encourage chewing and are eaten more slowly over a longer period of time in comparison to traditional bucket feeds. Environmental stresses, such as reduced grass levels, may contribute to gastric ulcers, so being able to offer a vitamin and mineral source that encourages a slower consumption rate alongside a suitable amount of forage is hugely beneficial.
Mollichaff Calmer Complete provides a balanced level of vitamins and minerals which are essential, especially when horses are unable to graze. Offer small feeds as often as is feasible.
Post-Drought Feeding Practices
Once the rain starts to fall, it's not a quick transition back to regularly feeding habits. Fields that are parched and dusty take time to fully recover and over consumption of new grass can be detrimental. The introduction of fresh pasture must, like all changes to your horse's diet, be gradually added into the diet. Here are some tips for post-drought feeding:
Allow your horse to graze for a couple of hours each day and gradually build that up whilst moving them around to different paddocks
Use temporary fencing to create boundaries for selective grazing
Make sure the pasture is sufficient before letting your horse graze
Until there is enough pasture for the horse to consistently graze, supply extra forage
In following these practises, you will gradually be able to resume your regular feeding regime. If your horse has lost weight during the dry conditions, avoid reverting back to your regular routine and encourage them to gain the weight back. HorseHage Ryegrass and Mollichaff Condition Complete are perfect for those that require a higher level of calories.
If you need some further advice, get in touch with our dedicated HorseHage Helpline on 01803 527274 and our expert team will be happy to help.